fully automatic SMT line PCB de-panelling machine Cooperation manufacturers
YUSH Electronic Technology Co.,Ltd was founded in 2004,is located in the world manufacturing city Jiangsu,Guprofessional pcb separator/pcb depanelizer electronic equipment machinery. The company has advanced production and processing equipment and an experienced development and manufacture team,half of them have over 10 years experience in electronic equipment industry.
Begin with 2004 the company leader invested to develop and manufacture the PCB separator and PCB de-paneling machine.From then on we pay more attention to product quality,safe to use and product innovation,so far we have produced many high quality, stable performance, high cost-effective products. Improve production yields, increase productivity, and thus enhance the market competitiveness of our customers. Until now we have design different separating PCB types of PCB separator and PCB depaneling machine with manual,motor-driven,pneumatic-driven,mold punching,milling cutter router.Due to the good quality and reasonable price our customers are all over the world.Up to now YuSH have became one of the biggest PCB separator production base in China.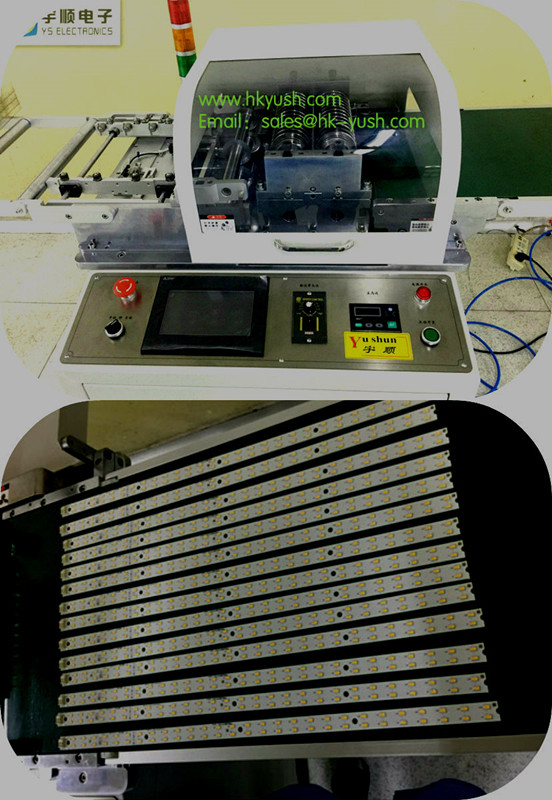 Specification: fully automatic SMT line PCB de-panelling machine Cooperation manufacturers-YSVJ-650


1.Maximum board length: unlimited
2.Board thickness:0.2-5.0mm
3.Plate feeding speed: 300-500mm/s
4.Blade material:SKD11
5.Working temperature: 10-35℃
6.Storage temperature:-20-50℃
7.Voltage: 230V
8.Dimension : 2160mm*570mm*1050mm


Features:

• The machine adopts the computer screen control with a counting device, which you can use
to preset the processing production. And the space of cutting tool is visible on the screen.
• It can cut many boards with multiple sets of knives work at the same time.
• The knife flywheel is adjustable as a whole from 0 to 5mm
• The distance between knives is regulable as well, applying to pcb with width from
15mm to 20mm.
• The blade is made of imported SKH51 high speed steel material, which is durable and
have a long service life.
• It is convenient to adjust the cutting speed through rotary knob.
• No limits of the cutting length.
• Thickness range of pcb: 0.2-5.0mm
• With a conveyor belt line, the separated pcb can be send out directly to reduce pick- and-place.
• The machine adopts multiple blade to separate boards with simple operation and
high efficiency, fitted for batch production.