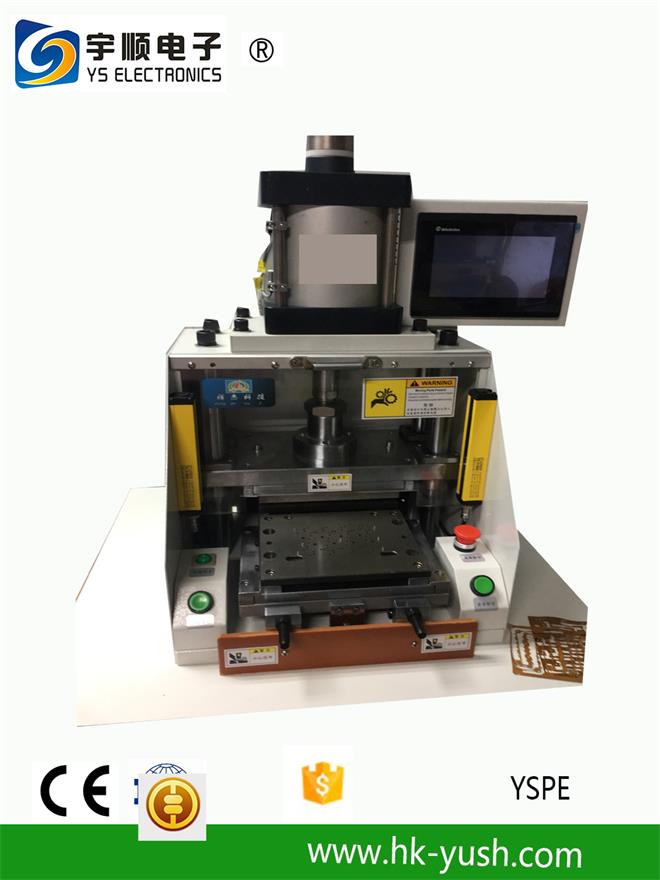 Parameters of Punch Plate Separator--YSPE
1.为模具冲裁式。
1. Punching die.
2.设备结构紧凑,机身坚固,气缸125,160,200缸径台湾亚德客。
2. the equipment is compact, the fuselage is strong, and the cylinder is 125160200 cylinder diameter.
3.设备运行平稳,低振动,低噪音。
3. The equipment runs smoothly with low vibration and noise.
4.中文触摸屏显示,面板清晰,中文报警功能显示,异常报警一目了然。
4. the Chinese touch-screen display, the panel is clear, the Chinese alarm function shows that the abnormal alarm is clear at a glance.
5.设备具有通用性。可更换多款模具,且换模方便快捷。
5. The equipment is universal. Various moulds can be replaced, and the change of moulds is convenient and fast.
设备安全性:
http://www.pcbpunchingmachine.com/news-129.html点击打开链接
1.双开关双手动作启动。
1. Double switch two hands action start.
2.设备配置下模进出滑道,下模自动进出,取放产品方便安全。
2. Equipments are equipped with the slideway of lower die in and out, and the lower die is automatically in and out, so the product is convenient and safe to take and place.
3.设置急停开关,发现问题及时停机。
3. Set up emergency shutdown switch and shut down in time when problems are found.
4.设置安全门,避免安装调试模具时手的误入。(正常操作时无安全门不工作)
4. Set up the safety door to avoid the wrong hand entry when installing and debugging the mould. (No safety door does not work during normal operation)
5.设置安全门口对射装置,模具上放错板.对射装置可以感应失误,模具不能进入。
5. Set up a safety door shooting device, and place a wrong plate on the die. The shooting device can sense errors, and the die can not enter.
6.安全气压设置功能,超限报警。自动计数,超限停机。
6. Safety air pressure setting function, alarm for exceeding limit. Automatic counting, over-limit shutdown.
7.将产生的内应力降至最低并且避免锡裂
7. Minimizing the internal stress and avoiding tin cracking
8.冲切半成品PCB. FPC效率极高,世界500强指定产品供应商。
8. Punching semi-finished PCB. FPC efficiency is very high, the world's top 500 designated product suppliers.
规格:
a.尺寸: 820×740×1750mm
Size: 820 *740 *1750mm
b.冲裁力: 3T 8T 10T
B. Punching force: 3T 8T 10T
c.放板面积 330×220mm
C. Placement area 330 x 220 mm
d.工作气压 0.50-0.70Mpa干燥气源
D. Drying gas source with working pressure of 0.50-0.70 Mpa
e.气缸回程开模力: 1.5T 4T 5T
E. Cylinder return opening force: 1.5T 4T 5T
f.使用电压 220VAC
F. Use voltage 220VAC
g.行程速度: 8~15s可调(不含放板取件时间)
G. Travel speed: 8-15 seconds adjustable (excluding the time to take parts from the plate)
h.工作行程: ≥60mm
H. Working itinerary: > 60mm
i.工作噪音: ≤60dB
I. Working noise: <60dB
j.工作精度: ±0.05mm
J. Working accuracy: +0.05 mm
k.机器重量 580kg
K. Machine weight 580 kg