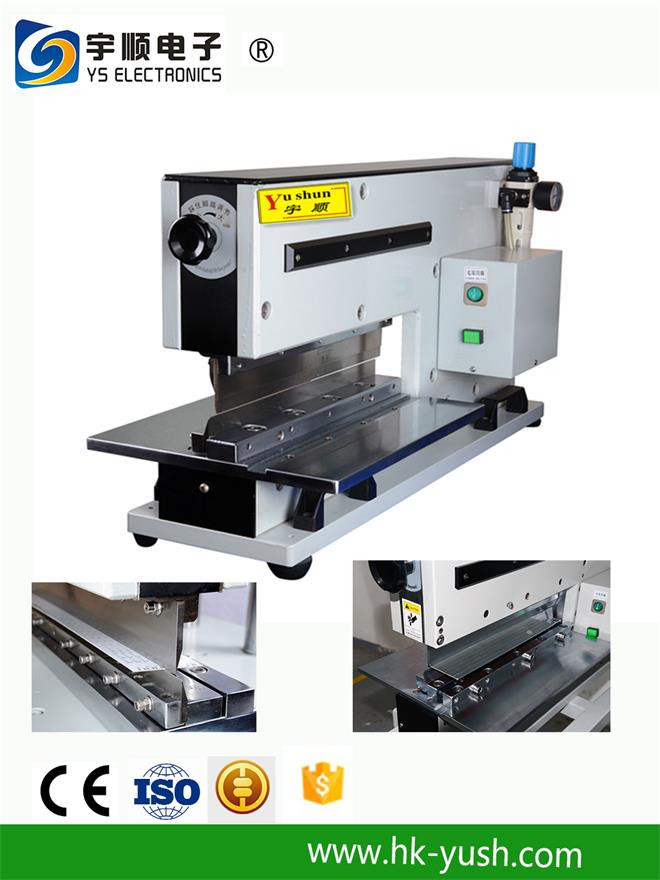 Automatic Hydrate Splitter-YSV-4A
概述:
Summary:
1.针对COB光源板开发的分板设备,采用PLC触摸屏控制自动送料分板。
1. Aiming at the dividing board equipment developed by COB light source board, PLC touch screen is used to control the automatic feeding dividing board.
2.方便分板各种COB基板,球ED铝基板,COB陶瓷板等。
2. Convenient splitting of various COB substrates, spherical ED aluminum substrates, COB ceramic plates, etc.
3.气混合式设计,双直刀分切,特别适用与分割精密PCB板。
3. Gas mixing design, double straight cutter, especially suitable for precise PCB board.
4.铡刀式分割,适用于各种厚度PCB板,切板行程厚度2MM以下。
4. Hydrate cutter segmentation, suitable for all kinds of thickness PCB board, cutting board travel thickness of less than 2MM.
5.防呆结构设计,操作简易,安全生产。
5. Anti-daze structure design, simple operation, safe production.
6.分板效率比传统分板机快5-6倍。
6. The efficiency of plate splitting is 5-6 times faster than that of traditional plate splitting machine.
7.分切时对元件微应力在200左右,避免锡裂,防止精密零件受损。
7. When slitting, the micro-stress of the component is about 200, which can avoid tin cracking and damage the precision parts.
产品简介:
Product Profile:
1、PLC精确控制自动化分板,对接上板机,可实现无人值守全自动分板作业。
1. PLC precisely controls automatic partitioning board and butts up the board machine, which can realize unattended automatic partitioning board operation.
2、针对半导体产品分板设计。
2. Semiconductor product sub-board design.
3、特定料盒自动上料,并且有防呆功能。
3. Automatic feeding of specific cartridges and anti-daze function.
4、采用铡刀方式分板,应力小,分板质量高。
4. Using the method of chopping cutter to divide the board, the stress is small and the quality of the dividing board is high.
5、自动取料,产品自动摆盘,并且可摆进笼。
5. Automatic feeding, automatic pendulum and cage.
6、全程无需人工操作,对产品起到一定的保护作用。
6. The whole process does not need manual operation, which has a certain protective effect on the product.
项目 YSV-4A
Project YSV-4A
1)名称 半自动铡刀分板机
1) Name Semiautomatic Hydrate Splitter
2)外形尺寸Outline size L/W/H (L)890X (W)550X(H)1090mm
2) Outline size L/W/H(L)890X(W)550X(H)1090mm
3)刀具尺寸Toolsize 直刀230*45*6
3) Tool Size Tool Size Straight Cutter 230*45*6
4)刀具材质Tool material 进口高速钢
4) Tool material imported high speed steel
5)刀具品牌Tool brand 宇顺自制
5) Tool brand Yushun self-made
6)分板厚度Router thickness 0.5-3.0mm板厚(V-CUT 板厚三分之一)
6) Router thickness 0.5-3.0 mm (one third of V-CUT thickness)
7)分板寸尺 L100*W200MM (可定制)
7) Plate size L100*W200MM (customizable)
8)分板速度Router speed 1刀/2s
8) Plate splitting speed Router speed 1 knife/2s
9)工作气压Air pressure O.5-0. 8mpa
9) Working Pressure Air Pressure O.5-0.8 MPa
10)工作电压Voltage 220v可选
10) Voltage 220V Operating Voltage Optional
11)设备功率Power 120W
11) Equipment Power 120W
12)重量Weight 约150kg
12) Weight about 150 kg
作业流程:
Work flow:
(一)人工将装有产品的特定料盒放入机器
(1) Manually insert the special cartridge containing the product into the machine
(二)机器自动定位料盒,气杆推产品到机器定位治具
(2) Machine automatic positioning material box, pneumatic rod pushing products to machine positioning fixture
(三)机械手夹取产品,送入分板机
(3) The product is clamped by a manipulator and fed into a splitter.
(四)分板机按照设定的程序开始分板
(4) The splitter starts splitting according to the set procedure.
(五)后端机械手夹取产品,放入定位冶具
(5) Back-end manipulator to pick up products and put them into positioning metallurgical tools
(六)摆盘机械手吸取产品,进行摆盘
(6) The pendulum manipulator absorbs the product and carries on the pendulum
(七)机器完成一个工作流程
(7) Machine completes a workflow