Desktop PCB Router Milling Machine
In line 2 way Sliding Exchanger PCB Router Desktop PCB Router Milling Machine - Desktop PCB Router Milling Machine Manufacturers, Suppliers and Exporters on hk-yush.com Electronics Production Machinery Features:
1. Adopting the collect dust downside mode, in line with the theory of free fall, the dust collecting effect is good.
2. Special fixtures are more securely fixed to avoid cutting accuracy errors caused by poor basic positioning.
3. The system automatically corrects according to the installation position of the product to ensure high-precision cutting requirements.
4. Installed with a static eliminator to remove electricity, dust and air nozzles continue to work, to eliminate static electricity generated when high-speed spindle cutting, to avoid damage caused by static electricity, to avoid the accumulation of dust due to static electricity.
5, Use safety doors to reduce noise and dust and improve safety
6, The cleaner is equipped with a dust collection box (Maintenance can be arranged according to capacity cutting requirements or dust collection time).
Application
Suitable for split stamp hole PCB board and irregular joint PCB board
Technical Parameters:
| | |
| --- | --- |
| Function Items | Hardware Demand |
| Model | YS-300 |
| Dimension | L623*W737*H587mm |
| Power | 220V/50HZ |
| Machine power | 3.6KW |
| Weight | About 300KG |
| Cleaner Dimension | Inside / L650*W500*H550mm |
| Cleaner Wattage | 2.2KW/220V |
| Table Dimension | 260mm*260mm |
| Cutting Speed | 0-100mm/s |
| X,Y,Z axis Driving Speed | X, Y axis 0-1000mm/s (min), Z axis 0-750mm/s (min), servo motor drive |
| Repeatability Accuracy | ±0.01mm |
| Working Area | X:0-260mm,Y:0-260mm,Z:0-80mm |
| PCB Thickness | 0.5-5mm |
| Router Bit Diameter | 0.8-3.0mm |
| Cutting Precision | ±0.01mm |
| Cutting Ability | Linear, Circular, U-curve, Arc, L-curve |
| Cutter Change | Manual, tools needed |
| Cutter Attrition System | The number of milling cutters (0-5 section) |
| Cutter Break Detection | none |
| Cutter Life Control | controlled by Program |
| Table Number | 1pc |
| Spindle Speed | 60000rpm |
| Spindle Cooling System | Air cooling mode |
| Cleaner Mode | collect dust downside |
| Working Power | 220V ,50HZ |
| Air press | 0.4Mpa |
| Safety Device | Safety door and door lock sensor |
| Mode | offline, load and unload PCBA by hand |
| Auto failure test and repair mode | Self-diagnosis,display failure information in real time, query IO state visually, easy for troubleshooting |
| Computer & Operation system | IPC, Windows 7 |
| Program Backup | USB |
| Software access control | Password protection,the operator enter corresponding interface according to authority to protect important parameters.) |
| Programming | Visual interface, the cutting point capacity for a single program should be over 400, dynamic simulation of cutting schedule |
| Auto correction of the mark point | Yes |
| Fixture | universal fixture |
| Voice control | ≤78 dB(measured in 1M's distance ) |
| Maintenance Period | 1 years |
| Technology Support | (Offer service of operation, programming, hardware caring and maintenance training; free upgrade of application. ) |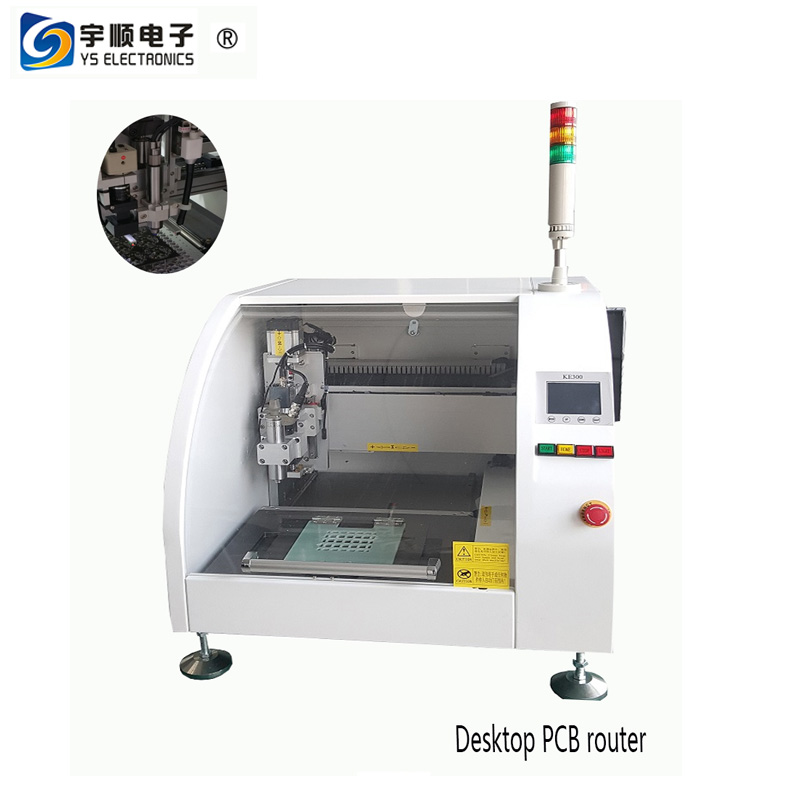 Feedback