Basic specifications:
01. X, Y cutting speed: 0 ~100mm/s
02. Machine Repeat Accuracy: ± 0.01mm
03. X, Y1,Y2 ,Z Control Methods: Industrial IPC and PC
04. X, Y1,Y2 ,Z Drive Mode: AC Fiber Optic Servo Motor
05. Machine Operation and Data Storage: PC System
06. Cutting accuracy: ± 0.05mm
07. Spindle speed: Max 100000pm
08. Host voltage: 220V 1ψ 50 / 60HZ
09. Air pressure supply: above 4.5kg/cm2
10. Power Consumption: 3KVA
11. Dust Collection: Upper Dust Collection 2HP
12. Dust collector voltage: 380V 3ψ
13. Upper dust collector size: :L650*W400*H1350mm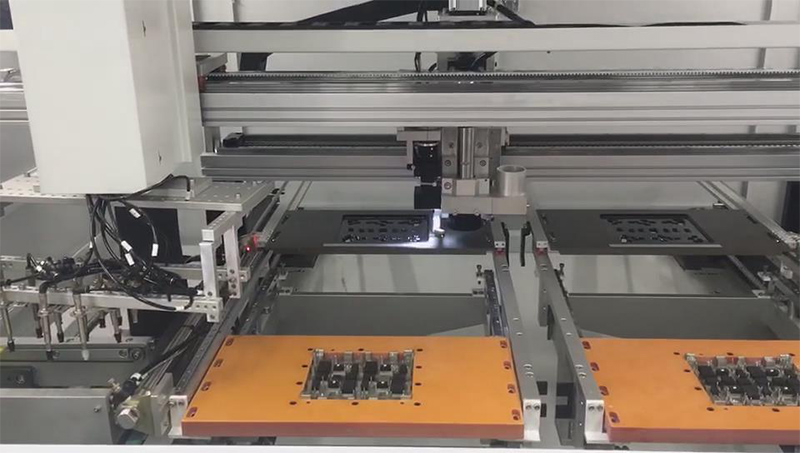 Model difference:
| | | | | | |
| --- | --- | --- | --- | --- | --- |
| Workbench | Model | Specifications | Work Size | Machine Dimension W.D.H | Net Weight |
| Double Tables | YSATM-4C-IN-AS | Standard Type | 300*300mm | 1680*1298*1700mm | 1100KG |
| Double Tables | YSATM-4C-IN-AW | Widened | 500*450mm | 1902*1373*1700mm | 1400KG |
FEATURES:
• In-Line Automatic PCB Separator can loading, Cutting , unloading automatically, meet the needs of automatic factory.
• It can adjust width and receive PC board automatically. Meanwhile, it can identify the finished PCB board and waste automatically after cutting, save labor costs.
• Equip high-speed CCD with automatic vision alignment system at set, great improve the precision of cutting and operation efficiency.
• Use high-speed main shaft to cut PCB, less cutting stress, high precision, and apply to any form of PCB.
• Dual tables motion could carry out PCB cutting and placing at the same time, improve operation efficiency.
Advantages:
1. Using double slide into place device, reduce the cutting waiting times, increase production capacity.
2. Avoid artificial flap caused by the cracking of tin and part damage and other issues.
3. Avoid using blunt or fold, produced by mechanical stress.
4. Suitable for the finished plate arc and line cutting.
5. Suitable for small pieces of the final cutting, base plate of a mobile phone, PDA, PC interface card and so on.
Operational Vision:
• Diagrammatic window operating pages, easy to learn and operate.
• Directly edit the cutting programming on screen.
System Setting:
• Provides the fine tuning revise by diagrammatic machine.
• Set the related parameters of cutting.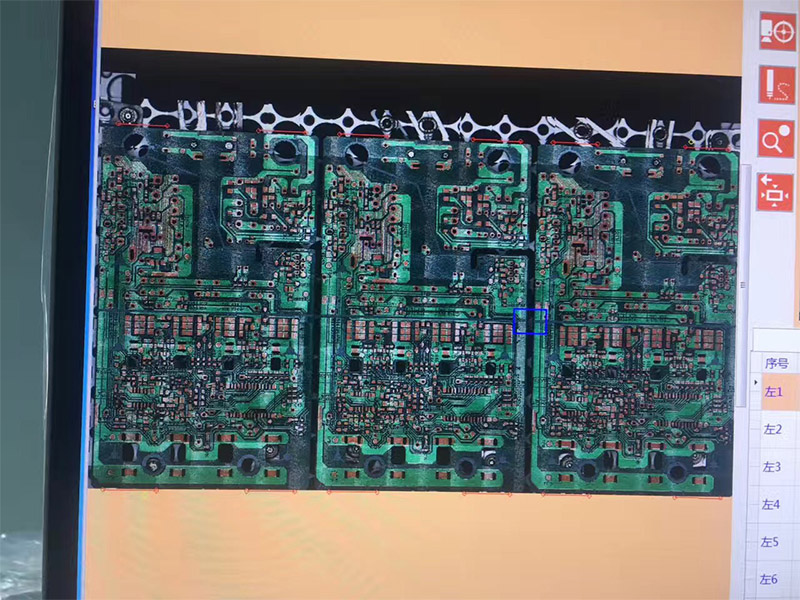 SPECIFICATIONS:

Working size Working Area 300 X300 mm
PCB Thickness 0.3~3.5mm
Hardware brand Waste collection methods Dust collection box
Dust collection method Upper Vacuum
Dust collection box parameters Upper vacuum turbocharged
Sensor Switch Brand Omron Japan
Servo motor brand Panasonic Japan
Broken knife sensor brand Takenaka, Japan
Height measurement sensor brand Omron Japan
Guide rail brand Taiwan PMI
Screw brand Taiwan TBI grinding grade
CCD camera brand Germany BASLER
Spindle Brand SYCOTEC (100,000rpm/min) Germany
Computer host brand ASUS brand host
Machine weight 1100KG
Electric Power supply AC220/380V50/60HZ three-phase
Compressed air 0.4-0.6 MPA (with filter)


Operation control Operating System Chinese/English Optional
Software control method PC Control
Programming methods Computer programming, AOI scanning and editing programs faster and more accurate.
Warning light Three-color sound and light alarm (normal work, waiting for test, fault alarm)
With fault alarm: air pressure instability, blocking, collision

Safe production Produce order mode production, four-level password protection (automatic, manual, sensor protection, etc.)


Technical Parameters Statistics function Both left and right board with statistics function
Information management function Support MES information system to seamlessly connect equipment and information management, Open Ethernet Interface, and supports TCP/IP network communication protocol, and necessary related software and programs; Open the BAR CODE function port.
X.Y, Z, axis drive Servo motor + screw, guide rail
Worktable input and output methods Servo motor + screw, guide rail
Feed plate and splint method Feed width automatic adjustment, servo automatic splint
Measuring height Input the boars is laser measurement height, can test three point with different angles, to prevent flow error and boards stacking. Easy adjustment without maintenance.
Pick and discharge robots With automatic rotation function, more convenient and accurate.
Nozzle signal method Adopt 6-point independent control signal mode to prevent drop board and detailed alarm.
Architectural advantages Adopting self-consistent and self-contained methods, the follow-up maintenance is more convenient and economical.
LED aperture requirements LED aperture brightness can be adjusted in software
Camera Software controlled camera moves up and down
PCB positioning and adjustment methods Special fixture.
Milling cutter diameter range 0.8-3.0mm
Milling cutter management The software can automatically adjust the height according to the thickness of the PCB board and the toughness length of the cutter to extend the service life of the cutter and standard tool detection.

Tool Management Equipped with broken knife detection function.
Equipped with retracting detection function
Equipped with automatic tool change function, adopts visual tool change system to prevent reversal.
MES docking Open MES docking port function
BAR CODE scan Open BAR CODE Scan Port Function
Cutting speed 0-100mm/S adjustable per second
Working table two worktables
Cutting function Can cut straight, curved, L-shaped, U-shaped
Trouble shooting Software can detect failure points, have I/O port detection capabilities, and have detailed alerts

Service Machine warranty 15 months. Our after-sales points are Suzhou, Dongguan, the United States, Brazil, Britain, France, and Turkey. Welcome to be our foreign agent.