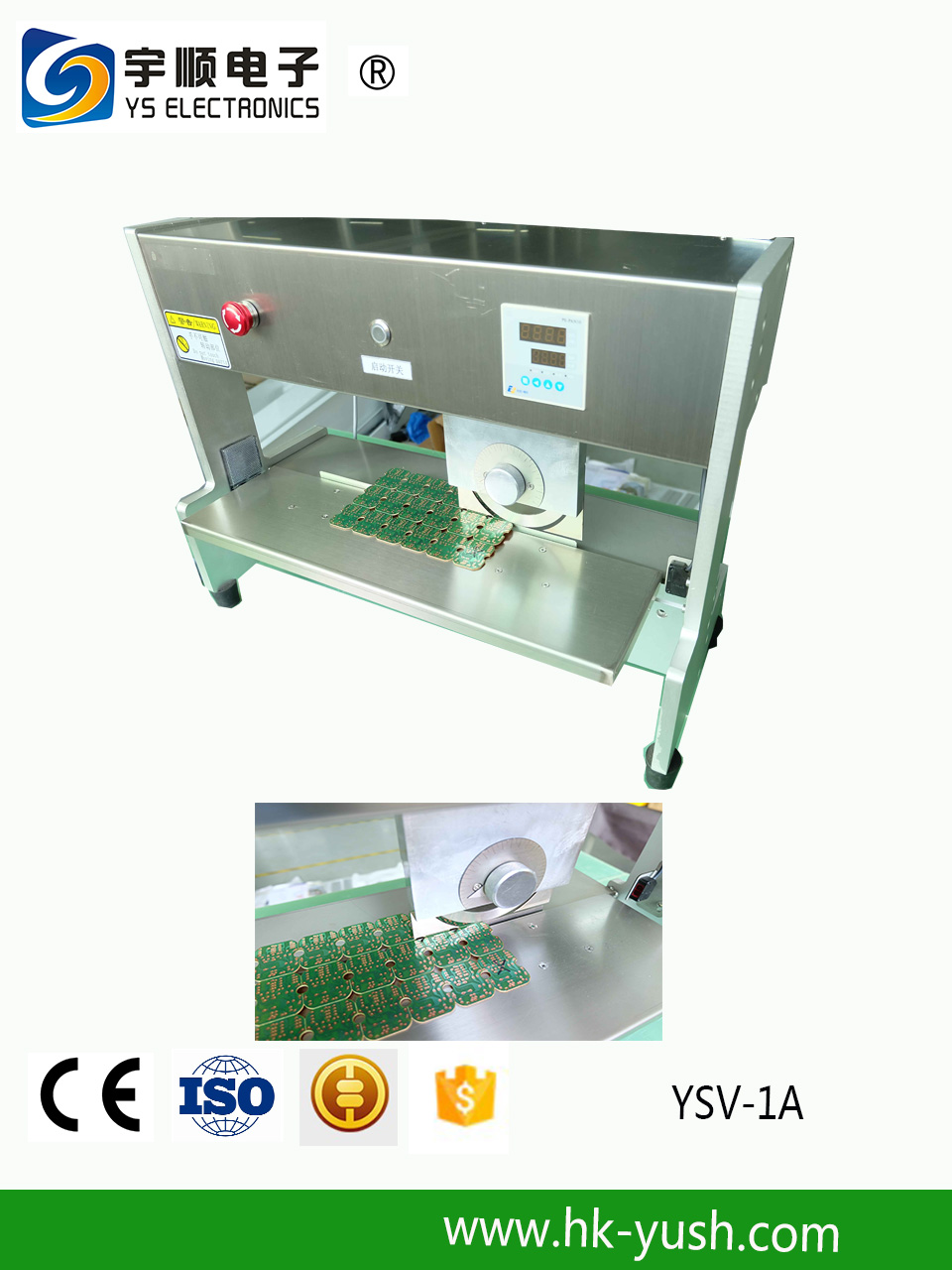 Automatic Tooling-YSV-3A
产品简介:
Product Profile:
1. YSV-3A--PCB全自动走刀式分板机,微电脑控制全自动分板,高效率同时兼具走刀式分板机的各种优点:应力小走刀式分割避免线路板暗伤、锡裂等问题,适用性广泛,适合双面带有元件的线路板。
1. YSV-3A-PCB fully automatic knife-type splitting machine, micro-computer control fully automatic splitting board, high efficiency at the same time with the advantages of knife-type splitting machine: stress small knife-type splitting to avoid circuit board dark damage, tin cracks and other issues, wide applicability, suitable for double-sided circuit boards with components.
2.采用了PLC和触摸屏人机界面控制系统,自动故障停机显示,智能参数定位系统,可精准的实现PCB等距或不等距v-cut 槽每一步对位,设置有点动功能,点动功能可手动点动实现确认v-cut 对刀精准度从而更能保证分割出最佳品质产品。
2. Used PLC and touch screen man-machine interface control system, automatic fault stop display, intelligent parameter positioning system, can accurately realize the PCB equidistant or unequal distance V-CUT slot alignment at each step, set up a bit of manual function, the point function can manually point to realize the confirmation of the accuracy of V-CUT tool alignment, so as to better ensure the segmentation of the best quality production. Product.
本机带有记忆储存功能(可储存100组数据),这功能方便操作(只要是储存过的产品数据)直接下载使用无需再设置,快速换板分割,实现一台机器多种板型分割作业。
This machine has memory storage function (can store 100 sets of data), which is easy to operate (as long as it is stored product data) directly download and use without setting, fast board change and partition, to achieve a machine multi-plate partition operation.
4.机器还设有操作技术员使用界面和工程技术员使用界面,操作技术员使用界面可下载相对生产的产品数据工作,但不可更改数据,工程技术员使用界面是带有密码输入,密码输入后工程技术员就可对数据更改下载等。
4. The machine also has user interface for operation technicians and user interface for engineering technicians. Operating technicians can download relative production product data using interface, but they can not change data. Engineers use interface with password input, and engineers can change and download data after password input.
机器内部主要结构写真
Photographs of Main Structures in Machines
机器内部主要结构写真
Photographs of Main Structures in Machines
特点:
Characteristic:
1.定位精度高。
1. High positioning accuracy.
2.切板应力小。
2. The stress of the cutting plate is small.
3.红外线光幕感应,安全性能高。
3. Infrared light screen induction, high safety performance.
4.自动送板、切板,效率更高。
4. Automatically feeding and cutting board, higher efficiency.
5.可对接上下板机,更省人工。
5. It can be connected with the upper and lower board machines to save labor.
技术参数
technical parameter
项目 YSV-3A
Project YSV-3A
名称 PCB全自动走刀式分板机
Name PCB fully automatic knife-walking splitter
外形尺寸L/W/H 990mm*550mm*1250mm
Shape size L/W/H 990mm*550mm*1250mm
刀具尺寸 圆刀125mm*3mm 直刀400mm*43.5mm*6mm
Tool Size: Round Cutter 125 mm*3 mm Straight Cutter 400 mm*43.5 mm*6 mm
刀具材质 进口高速钢
Tool Material Imported High Speed Steel
刀具品牌 SKH-9
Tool Brand SKH-9
分板厚度 三分之一板厚
Thickness of parting plate
分板长度 1mm-5mm
Plate length 1 mm-5 mm
分板速度 300mm/s
Parting speed 300 mm/s
分板宽度 1mm-200mm最佳(最小片宽,非整拼宽度)
The optimum width of parting is 1mm-200mm (minimum width, non-whole width)
工作气压 0. 5-0.8mpa
Working Pressure 0.5-0.8 MPa
工作电压 220V/110V可选
Operating Voltage 220V/110V Optional
设备功率 150W
Equipment power 150W
整机重量 200kg
Whole machine weight 200 kg