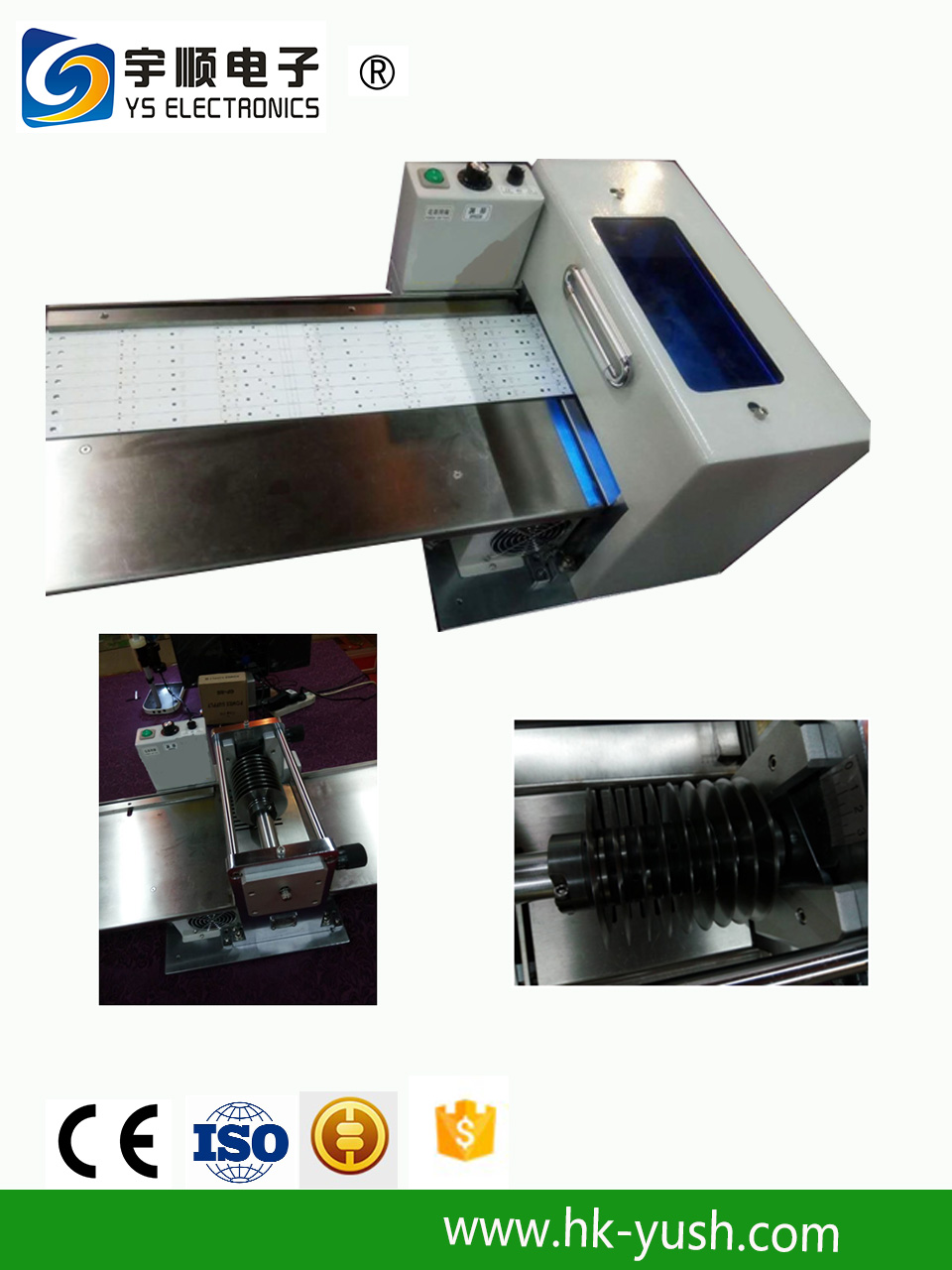 Desktop Multi-knife Plate Breaker-YSATM-3L
Extension board, YSATM-3L features:
●可同时一次性分切多条条PCB板V槽不变形,速度快捷。
Multi-strip PCB V slots can be cut at the same time without distortion, and the speed is fast.
●每条上下各1把,标配多组同时精准分切,提高效率
Each of them has one upper and one lower, which can be divided into several groups precisely at the same time, so as to improve the efficiency of the system.
●前后可配有输送平台,高度自由调节,放板、落板操作方便
Conveyor platform can be installed before and after, height can be adjusted freely, and the operation of setting and falling board is convenient.
●将切板时所产生的内应力降至颇低而避免锡裂
Reduce the internal stress generated during cutting to a relatively low level to avoid tin cracking.
●凡有V-Cut之长条PCB板皆可适用于此机器
All long PCB boards with V-Cut are suitable for this machine.
●上下圆刀可精准调节,圆刀可多次翻磨再用
The upper and lower round knives can be adjusted accurately, and the round knives can be grinded and reused many times.
分板机,YSATM-3L参数:
Extension board, YSATM-3L parameters:.
分板条数:可定制
Number of Slabs: Customizable
分板宽度: 8~225mm
Plate width: 8-225mm
分板长度: 100mm~无限长
Parting length: 100mm-infinite length
分板厚度: 0.8~3.5mm
Plate thickness: 0.8-3.5mm
标准插件平台长度: 160mm
Standard Plug-in Platform Length: 160mm
插件平台整机外形尺寸(MM):355*405*330
External dimensions of plug-in platform (MM): 355*405*330
标准灯条平台长度: 1150mm
Standard lamp platform length: 1150mm
灯条平台整机外形尺寸(MM):1155*405*330
Exterior dimensions of lamp bar platform (MM): 1155*405*330
使用电压:110/220V
Usage Voltage: 110/220V
重量:70kg(含平台)
Weight: 70kg (including platform)
分板机,YSATM-3L出货包装及售后服务:
Extension machine, YSATM-3L delivery packaging and after-sales service:
1.主要按客户要求,看具体情况,距离远近,可送货上门,选择是用缠绕膜或是木箱包装。
1. Mainly in accordance with customer requirements, depending on the specific situation, distance, door-to-door delivery, the choice is wrapped in wrapped film or wooden cases.
2.自购机之日起非人为原因整机免费保修一年。
2. The whole machine is guaranteed free of charge for one year from the date of purchase.
3.终身维护,保修期之后一直提供机器的技术支持和维护。
3. Lifelong maintenance, technical support and maintenance of the machine after the warranty period.
4.售后服务及时快速优质,为客户节省时间增加效率。
4. After-sales service is timely, fast and high-quality, saving time and increasing efficiency for customers.