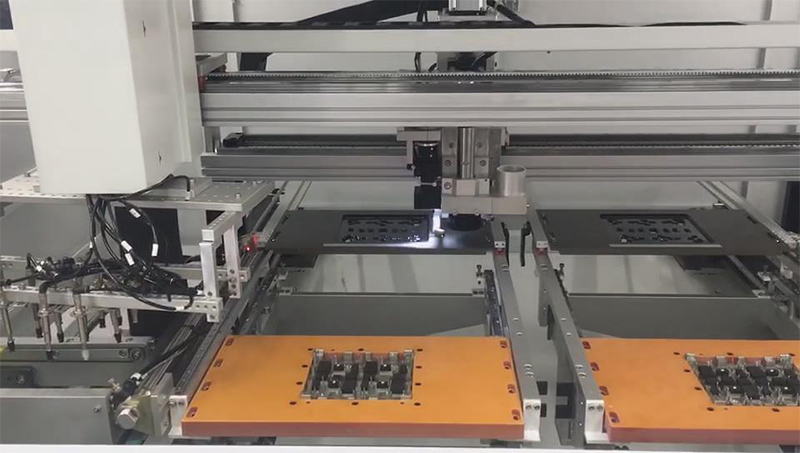 01. X,Y切削速度:0~100mm / s
01. X, Y Cutting Speed: 0-100mm/s
02.机器重复精度:±0.01mm
02. Machine repetition accuracy: +0.01mm
03. X,Y1,Y2,Z控制方法:工业IPC和PC
03. X, Y1, Y2, Z control methods: industrial IPC and PC
04. X,Y1,Y2,Z驱动模式:交流光纤伺服电机
04. X, Y1, Y2, Z Drive Mode: AC Optical Fiber Servo Motor
05.机器操作和数据存储:PC系统
05. Machine operation and data storage: PC system
06.切割精度:±0.05mm
06. Cutting accuracy: +0.05 mm
07.主轴转速:最大100000pm
07. Spindle speed: maximum 100000 PM
08.主电压:220V1ψ50/ 60HZ
08. Main voltage: 220V150/60HZ
09.气压供应:4.5kg / cm2以上
09. Pressure supply: 4.5kg/cm2 or more
10.功耗:3KVA
10. Power consumption: 3KVA
11.灰尘收集:上部灰尘收集2HP
11. Dust Collection: Upper Dust Collection 2HP
12.集尘器电压:380V3ψ
12. Dust collector voltage: 380V3
13.上部集尘器尺寸:: L650 * W400 * H1350mm
13. Size of upper dust collector: L650 * W400 * H1350mm
模型差异:
工作台型号规格工件尺寸机器尺寸W.D.H净重
Workpiece Size Machine Size W.D.H Net Weight
双人桌YSATM-4C-IN-AS标准型300 * 300mm 1680 * 1298 * 1700mm 1100KG
Double table YSATM-4C-IN-AS standard 300*300 mm 1680*1298*1700 mm 1100 KG
双人桌YSATM-4C-IN-AW加宽500 * 450mm 1902 * 1373 * 1700mm 1400KG
Double table YSATM-4C-IN-AW widened 500*450mm 1902*1373*1700mm 1400KG
产品特点:
•在线自动PCB分离器可自动装载,切割,卸载,满足自动工厂的需要。
On-line automatic PCB separator can automatically load, cut and unload to meet the needs of automatic factory.
•它可以自动调整宽度和接收PC板。 同时,切割后可自动识别成品PCB板和废料,节省人工成本。
* It can automatically adjust the width and receive the PC board. At the same time, the finished PCB board and scrap can be identified automatically after cutting, thus saving labor costs.
•配备高速CCD和自动视觉对准系统,大大提高了切割精度和操作效率。
With high-speed CCD and automatic vision alignment system, cutting accuracy and operation efficiency are greatly improved.
•使用高速主轴切割PCB,减少切割应力,提高精度,适用于任何形式的PCB。
Use high-speed spindle to cut PCB, reduce cutting stress and improve accuracy. It is suitable for any type of PCB.
•双工作台运动可同时进行PCB切割和放置,提高操作效率。
Double table movement can cut and place PCB at the same time to improve operation efficiency.
好处:
1)采用双滑入装置,减少切割等待时间,提高生产能力。
1) Double sliding device is adopted to reduce cutting waiting time and improve production capacity.
2)避免因锡裂纹和部件损坏等问题引起的人工皮瓣。
2) Avoid artificial flaps caused by tin cracks and component damage.
3)避免使用由机械应力产生的钝或折叠。
3) Avoid blunt or folding caused by mechanical stress.
4)适用于成品板弧和线切割。
4) Suitable for arc and wire cutting of finished plate.
5)适用于手机,PDA,PC接口卡等最终切割,底板的小件。
5) suitable for mobile phones, PDA, PC interface cards, and so on.
运营愿景:
•图解窗口操作页面,易于学习和操作。
Diagrammatic window operation page, easy to learn and operate.
•直接在屏幕上编辑切割程序。
Edit the cutting program directly on the screen.