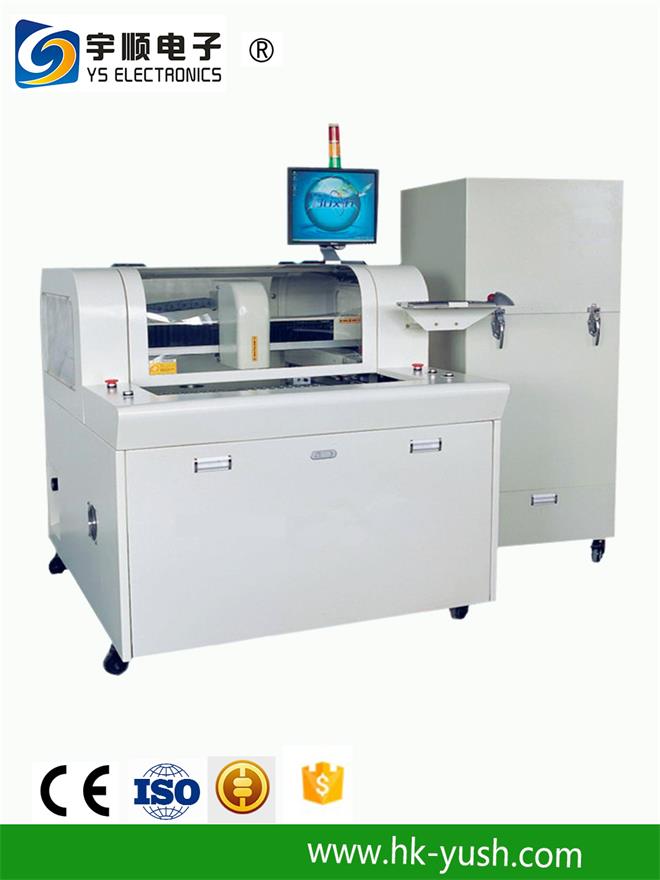 一、PCB切割铣刀全自动分板机取代了人工折断、V-CUT或PUSH切割瑕疵,有效提高产品质量,降低外部对产品的应力
1. The PCB cutting and milling cutter automatic splitter replaces manual breaking, V-CUT or PUSH cutting defects, effectively improves product quality and reduces external stress on the product.
二、配置高像素CCD镜头,辅助程序示教及编辑功能,精度更高更精确。
2. Configuration of high-pixel CCD lens, assistant program teaching and editing functions, higher accuracy and more accurate.
三、采用双平台切割PCB板,减少等待时间,有效的提升产能。
3. Cutting PCB board with double platforms can reduce waiting time and improve productivity effectively.
四、程序左右工作台复制、区块复制、陈列、多角度连接板复制、单步跟踪修改功能、区块编辑修改功能,精确简化了程序制作的时间,提高编辑效率。
Fourth, the functions of right and left workbench replication, block replication, display, multi-angle connection board replication, one-step tracking and modification, block editing and modification, accurately simplify the time of program production and improve editing efficiency.
五、自动MARK点定位校正系统,移动路径实时显示和模拟路线跟踪,有效提高切割精度。
5. Automatic MARK point positioning and correction system, real-time display of moving path and Simulation of route tracking, effectively improve the cutting accuracy.
六、大功率进口风机制作的吸尘器和高电压静电消除装置,提升吸尘效果。
6. Vacuum cleaner and high voltage electrostatic eliminating device made by high-power imported fan can improve the effect of dust collection.
七、PCB切割铣刀全自动分板机刀具寿命监测,以延长铣刀寿命。
7. Tool life monitoring of PCB cutting and milling cutter automatic splitting machine to prolong the life of milling cutter.
规格参数:
1.高清彩色CCD相机
1. High Definition Color CCD Camera
2.电源消耗:3KW
2. Power consumption: 3KW
3.重量:1000KG
3. Weight: 1000KG
4.主轴:MAX60000RPM
4. Spindle: MAX60000RPM
5.X.Y工作行程:290 *350毫米
5.X.Y Working itinerary: 290*350 mm
6.X.Y.Z驱动方式:AC伺服马达
6.X.Y.Z Driving Mode: AC Servo Motor
7.操作接口:PC WINDOW平台
7. Operating Interface: PC WINDOW Platform
8.集尘器:3HP
8. Dust collector: 3HP
9.主机及集尘器电压:220V1ψ/380V3ψ
9. Voltage of main engine and dust collector: 220V1/380V3
10.切割速度:0-100mm/ s
10. Cutting speed: 0-100mm/s
11.CCD识别MARK点,具备视觉补偿功能
11. CCD recognizes MARK points with visual compensation function
12.切割精度:±0.02毫米
12. Cutting accuracy: +0.02 mm
13.重复精度:±0.01毫米
13. Repetition accuracy: +0.01 mm
产品特性:
A.全系列配置高速CCD视觉自动校正系统,大辐提高切割精度及操作效率。
A. The whole series is equipped with high-speed CCD vision automatic correction system to improve cutting accuracy and operation efficiency.
B.采用高速主轴分板,切割应力小、精度高,适用不规则形状的PCB板。
B. High-speed spindle splitting board, small cutting stress, high accuracy, suitable for irregular shape PCB board.
C.双工作平台,可同时执行切割及电路板置放,提高作业效率。
C. Dual working platform, can simultaneously perform cutting and circuit board placement, improve operational efficiency.
D.自主研发集尘装置,低噪音提高效率,维护清洁容易。
D. Self-developed dust collection device, low noise, improve efficiency, easy maintenance and cleaning.
应用行业:
全自动分板机全系标配视觉对位校正功能,更加适合高精密及高产能的PCB切割分板作业。如手机,汽车电子,医疗器械,航天航空。加宽加大型尺寸适用数字电视,PC主板,服务器等大型电路板之分板加工。可选用标准治具或专用治具做分板切割之辅助提高产能。利用双工作平台放置工件,减少等待时间,增加产能。
Full automatic splitting machine is equipped with visual alignment correction function, which is more suitable for high precision and high productivity PCB cutting splitting operation. Such as mobile phones, automotive electronics, medical devices, aerospace. Widening and enlarging large size is suitable for the processing of dividing boards of large circuit boards such as digital TV, PC motherboard, server, etc. Standard fixture or special fixture can be used as assistant to improve productivity. Placing workpieces on double working platforms can reduce waiting time and increase productivity.