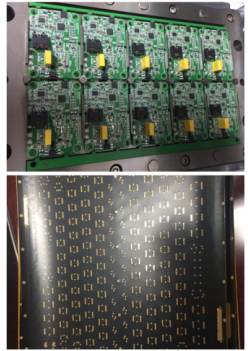 V Cut PCB Depanel Depaneling Aluminium Board MCPCB Strip Panel
Servo Hydraulic Press Splitter-YSPE-30/80T
The efficiency of punching semi-finished PCB, FPC and aluminium substrates.
② 微电脑控制,中英文人机交换界面。
(2) microcomputer control, interface between Chinese and English.
③ 结构设计紧凑,刚性强,便于操作及安全使用。
(3) Structural design is compact, rigid, easy to operate and safe to use.
④ 冲压高度可任意设定。
The stamping height can be set arbitrarily.
⑤ 下模自动进出,取放产品方便,成品可落入抽屉。
_The lower die can enter and exit automatically, and the product can be taken and placed conveniently. The finished product can be dropped into drawer.
⑥ 将切板时产生的内应力降低并且避免锡裂。
_Reduce the internal stress produced during cutting and avoid tin cracking.
特点Features
1. 采用伺服油压冲切.速度快捷,分切速度8秒/整片。
1. Servo hydraulic punching. Fast speed, cutting speed 8 seconds/whole piece.
2.适用于各种整面连接的FPC拼板裁切,裁切精度t0.03mm
2. It is suitable for all kinds of FPC jigsaw cutting with the cutting accuracy of t0.03mm.
3.冲切压力30吨,有油压测温报警功能。
3. Punching pressure 30 tons, oil pressure temperature measurement alarm function.
4. 截切工作台尺寸(L*W) 460mm*400mm
4. Cutting table size (L*W) 460mm*400mm
5. 平台精度滑动平台和模台的水平精度+0.02mm, 伺服马达、伺服驱动器、感应器等组成。通过控制系统完成平台的前后滑动,从而实现FPC的搬运功能,
5. Horizontal accuracy of platform precision sliding platform and die platform + 0.02mm, servo motor, servo driver, inductor and so on. The front and back sliding of the platform is accomplished by the control system, thus realizing the handling function of FPC.
6.刀模尺寸最大刀模厚度T= 200mm.可正常进行裁切。
6. The maximum tool die thickness T = 200 mm. It can be cut normally.
7.具有自动检测载切高度的功效,高精度导杆、高质量油缸,油泵、松下马达、多油管道、比例阀、电磁阀等完成冲切功能。通过控制系统,可实现压力微调,下压裁切稳定。
7. It has the function of automatic detection of load-cut height, high-precision guide rod, high-quality cylinder, oil pump, Panasonic motor, multi-oil pipeline, proportional valve, solenoid valve and so on. Through the control system, the pressure can be fine-tuned and the downward cutting is stable.
8. 载切工作台抽屉型(裁切完成后裁切桌面自动返还到操作位置)采用伺服电机传动速度快且精度高。
8. The drawer type of loading and cutting table (the cutting table is automatically returned to the operating position after cutting) is driven by servo motor with fast speed and high precision.
9.触模屏显示设备生产数量可任设定且设备生产的片数可以由用户手动设定需要设备生产的片数可以由用户手动设定。
9. The number of pieces produced by touch screen display equipment can be set at will, and the number of pieces produced by the equipment can be set manually by the user, and the number of pieces produced by the equipment can be set manually by the user.
描述:
设备压力显示,应显示实测值。
Equipment pressure display should show the measured value.
设备压力在触摸屏内可自己设定,进入压力调整界面时需要非操作员密码解锁才可调整参数描述手工上料处有安全保护装置要求人工上料区域安装安全光栅。
The pressure of the device can be set by itself in the touch screen. When entering the pressure adjustment interface, the non-operator password can be unlocked to adjust the parameters.
10.控制系统
10. Control System
(1)采用PLC可编程控制器+触模屏控制全操作过程,既可自动操作,也可手动操作,
(1) PLC programmable controller and touch screen are used to control the whole operation process, which can be operated either automatically or manually.
(2)异常情况紧急别停,并设声光报警。
(2) Do not stop in case of abnormal situation and set up sound and light alarm.
(3)设备两端有紧急急停按钮和报警装置。
(3) There are emergency stop buttons and alarm devices at both ends of the equipment.
(4).控制盘加锁定,以防非授权人员修改并设定参数。
(4) The control panel is locked to prevent unauthorized personnel from modifying and setting parameters.
(5)配有独立的配电柜,电路方面进行功能分块。强电、弱电分块,以便维护。
(5) Equipped with an independent distribution cabinet, the circuit is divided into functional blocks. Strong and weak current are divided into blocks for maintenance.
(6)系统设置过载保护系统。
(6) Overload protection system is set up in the system.
11.触摸屏
11. touch screen
(1)能设置操作权限,控制:点动、手动、半自动,产量保存、统计及错误信息存储。
(1) It can set operation authority, control: point, manual, semi-automatic, output saving, statistics and error information storage.
(2在参教设置(工程师级需要设置权限)里要能对程序(各个工位)进行选择设定,实时监控,参数设置等等功能。
(2) In the reference settings (engineer level needs to set permissions), we should be able to select and set the program (each station), real-time monitoring, parameter setting and other functions.
伺服油压冲压分板机机器型号: YSPE-30/80T专利产品 /机器规格 Machine specifications
Servo Hydraulic Press Splitter Machine Model: YSPE-30/80T Patented Products/Machine Specifications
型号YSPE-30/80
Model YSPE-30/80
放板面积400*400
Placement area 400*400
出力机器尺寸80吨1500*1200*2300
Output Machine Size 80 Tons 1500*1200*2300
工作方式 伺服油压式
Working mode Servo-hydraulic type
工作气压 0.5-0.7Mpa
Working Pressure 0.5-0.7 Mpa
工作电压380V
Working voltage 380V
机器重量1300KG
Machine weight 1300KG
机器尺寸1500*1200*2300(LxWxHmm)
Machine size 1500 * 1200 * 2300 (LxWxHmm)