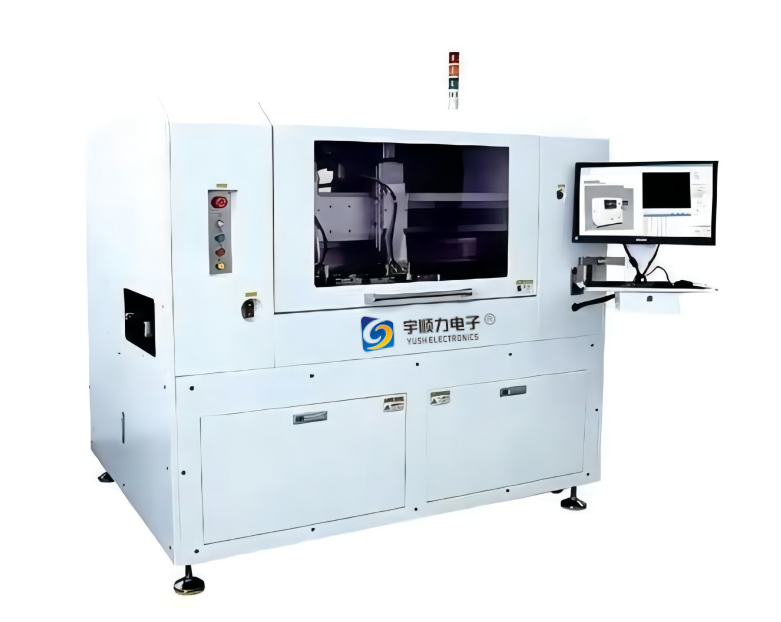 Introduce Features::
1.High Quality PCBA Router Machine, On-line PCB Router, PCB depanelingrouter Machine, PCBA Separator, LED pcb Depaneling, For PCBA.
2.On-line PCBA Router is a High-Precision High-Speed Dual-Platform On-linePCBA Router, Which is Used in Smart Phones, Smart Wear, Smart Home, TabletComputers, Automotive Electronics, Medical Devices, Aerospace, Military AndOther Fields.
3.New CCDSystem,New Vision System Can Correspond To All Kinds of PCB Mark Point.WithVisual Counterpoint Correction Function.
4.The Sensor CanMonitor The Milling Cutter State in Real Time, and effectively prevent thecontinuous operation of the cutter.
5. Using GermanyKAVo 4033AC-ESD high speed spindle, cutting stress is greatly reduced,precision is high, inertia is small, and response is fast.
6.Ion air gunwill remove static electricity on PCB surface and prevent dust from adsorbingon PCB.
7.Automaticloadering - picking and placing – cutting – unloadering pcba,unloaderingsolution can be option.
8.Adopt CNCspecial controller,high stability and strong anti-interference.
9.The separatedvacuum dust collector adopts high efficiency motor with high suction and lownoise.
10.Realizeautomation, save manpower and improve quality.
11.Automaticstorage product information, automatic adjustment conveyor width, improve thespeed of line change.
12.Loaderingpcba the automatic splint function replaces the traditional cylinder and ismore accurate.
13.Dual workingplatform to improve cutting efficiency.
14.Pcba can becut and move at the same time to improve productivity efficiency.
15.Standard MESor ERP connection ports, real-time connection to the central database.

16.Bar code camerais option, which can scan barcode automatically and upload.
Specification:

Fully Automatic inline PCB Depaneling Router Machine For Tab - Routed PCBA Depaneling

Model

YASTM-4C

Pcb Size(Special size optional)

300*350mm

xyz Drive Mode:

ac servo motor

Number of motion axes:

7 axes

Program teaching method:

color CCD image intuitive teaching input

Operation interface:

win7 window operation interface

Upper vacuum power:

2hp, lower dust collector power: 3hp (option 5hp)

Cutting Spindle Syco Tec 4033 AC-ESD (Germany):

max80000rpm (automatic tool change)

x-y ac servo speed:

0-1000mm/sec

z ac servo speed:

0-800mm/sec

x-y repeatability:

±0.02mm

Cutting accuracy:

±0.08mm

CCD camera calibration accuracy:

±0.01mm

Depaneling stress value:

below 300uε

PCB thickness

0.8~6.0mm

PCB board cutting thickness:

0.2mm-6.0mm

Main engine and dust collector voltage:

220v 1φ and 3φ

Power consumption:

3.5kva

Static elimination gun

Vision system:

high-resolution digital camera

Drive motor:

AC brushless servo motor

Mechanical pick and place arm:

anti-static vacuum nozzle

Feeding method:

rail conveying

Discharge method:

belt conveying or carrier output or rail conveying

Transfer method:

vacuum suction nozzle adsorption transfer

Flow direction:

left → right

Program backup:

usb interface

Control method:

dedicated controller

Dust collection cabinet size:

640mm×785mm×1760mm(d×w×h)

Dimension :

2014mm×1230mm×1650mm(d×w×h)

Host + dust collector weight:

1000 kg

Operation and Data Storage:

PC System

Dust Collector

Dust Collection Method

Vacuum cleaning

Air volume of vacuum cleaner

12~20cm3/min

Vacuum cleaner Dimension

750*600*620mm

Voltage of the Dust Collector

380V,50/60HZ, 1.2k

The structure of the vacuum suction cup to take the plate

Pick and place device

automatic loading and unloading (modular vacuum suction claw, vacuum device, can be independently controlled)

Transmission structure

X2 axis moves Z2, Z3 axis sucks, AC servo motor control.

Board taking speed

0-1000mm/sec (can be set)