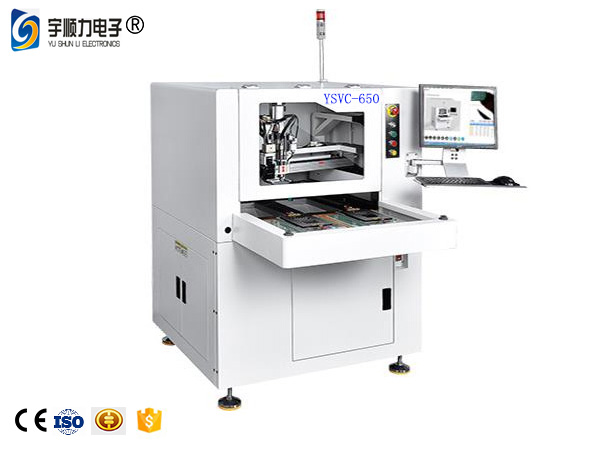 PCB Depaneling Machine PCB online CNC Router with 0.01 Positioning Accuracy-YSVC-650
Mechanical appearance
With the continuous development of the electronic industry, the production requirements of the substrate, which is an important part of electronic products, are becoming higher and higher. It is developing towards high precision, high density, high performance and small volume. In order to meet the market requirements, the company's long-term market research integrated the advantages of various brands in the world, widely listened to the views of users, made this high-speed dual-mode splitter YSVC-650.
Software Introduction: New Generation Recognition System
1: Change the traditional geometric pattern which can only recognize circles, squares and so on. You can recognize any shape marking point.
2: It not only has the function of correcting errors and preventing stupidity, but also can get accurate data without worrying about employees putting wrong boards.
3: The displacement function can realize the arbitrary placement of the treatment tools on the working table.
1: Change the traditional segmentation mode.
2: Adjust the cutting depth according to the thickness of PCB, increase the utilization ratio of milling cutter and save cost.
3: The milling condition can be determined according to the definition of the product.
Structure introduction
The automatic tool breaking detection function of Taiwan's 45000-turn high-speed spindle 24V high-voltage electrostatic eliminator is adopted. Using WIN7 system operation interface, configuring high-pixel color CCD to magnify 10 times the lens, assistant program teaching and editing simulation functions, the accuracy is more accurate, and the image is clearer.
Work structure demonstration
Software introduction:
By using high precision grinding screw to drive the motion of the working platform, the four axes of X. Y1. Y2. Z can work efficiently at the same time, and the speed of segmentation can be increased by about twice compared with the traditional equipment.
Design of Dual Workbench
1: Independent movement, increase productivity 2: built-in waste recycling, save space 3: simple and convenient maintenance
Electronic control layout
Electronic control-on-line: 1: clear, easy to maintain; 2: bus mode, simple wiring; 3: modular design, low requirements for maintenance personnel.
Cutting speed of X, Y is 0-100mm/s
Machine repetition accuracy (+0.02)
Plate size 300 mm*350 mm
X, Y1, Y2, Z control mode: industrial motion controller + industrial computer
X, Y1, Y2, Z drive mode of Hechuan servo electric reach (optional Japanese Panasonic servo motor)
Man-machine operation and data storage
Cutting accuracy (+0.1)
Spindle speed Max 45000 rpm (optional Japanese NSK or German Kava)
Cutting form: straight line, circular, arc, U-shaped, L-shaped, etc.
Image Intelligent Industrial CCD
Operating Interface
Fidicuial Mark CCD Auto-alignment Function
Program Preview and CCD Path Simulation Function
Host Voltage AC 220V 50/60Hz
Pressure 5KG/CM_
Host size 1100 x 930 x 1700 (L X H X D) mm
Main engine weight 600 kg
Dust collecting method: lower collecting dust (optional lower collecting dust)
Dust collector 3HP (optional 5HP)
Dust collector power supply AC 380V 50/60Hz
Dust collector size 665 x 635 x 1610 (L X H X D) mm

Automatic PCB Router Machine - YSVC-600
| | |
| --- | --- |
| Host + dust collector weight | 800 KG |
| Machine size: | 1075mm×1430mm×1460mm(D×W×H) |
| Cutting accuracy: | ±0.08mm |
| | |
| Splitting stress value: | below 300uε |
| Dust collector power | 3HP (option 5HP) |
| NSK spindle speed: | Max.60,000rpm |
| CCD camera calibration accuracy: | ±0.01mm |
| Dust collection cabinet size: | 640mm×785mm×1760mm(D×W×H) |
| X-Y AC Servo speed: | 0-1000mm/sec |
| Tool diameter: | 0.8-2.3mm |
| X-Y repeatability: | ±0.02mm |
| Unilateral working size: | 290mm X 350mm |
| Four-axis servo drive: | X, Y1, Y2, Z |
| Z AC Servo Speed: | 0-800mm/sec |
| PCB board cutting thickness: | 0.2mm-6.0mm |