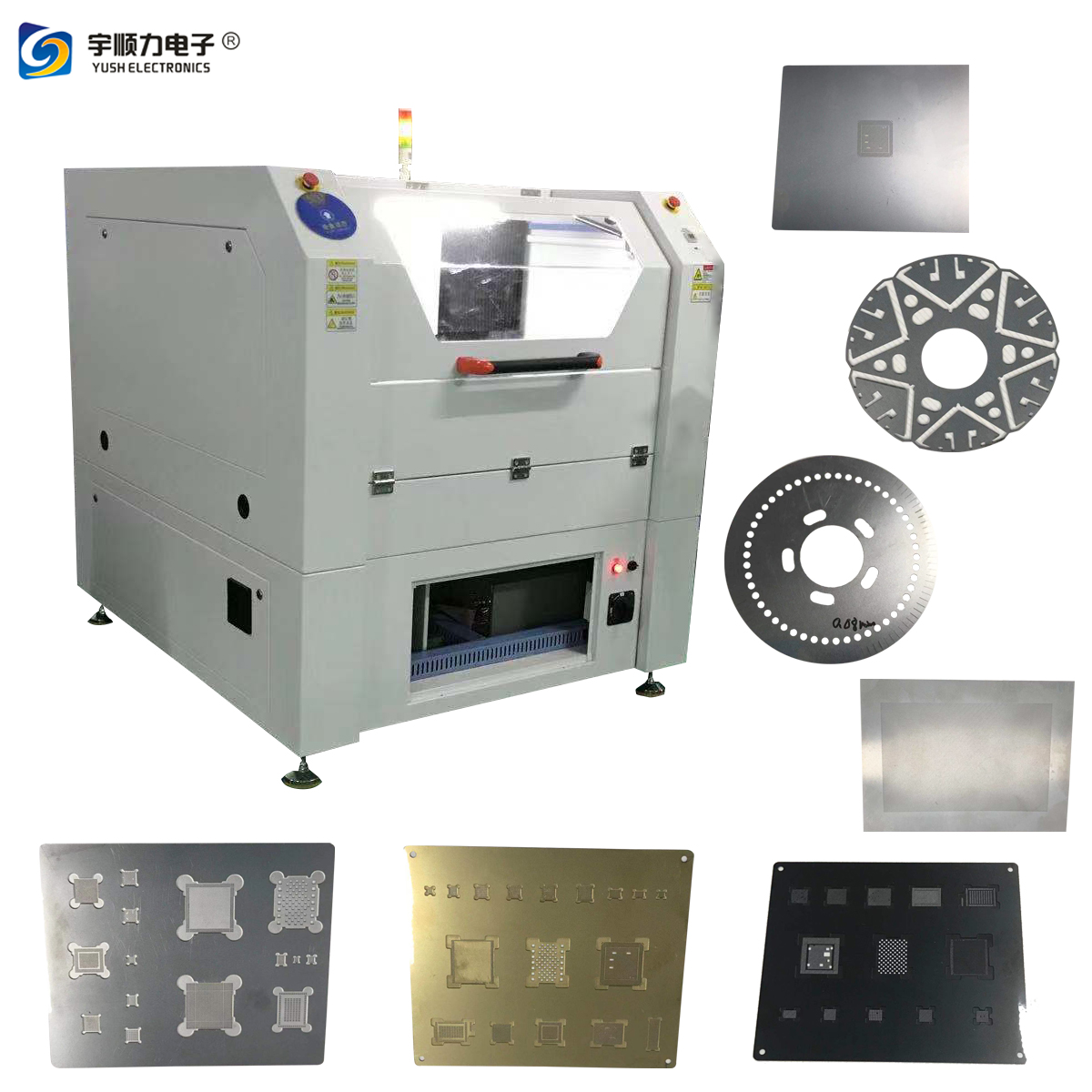 Stencil Laser Cutting Machine, Stencil Laser Cutting Machine direct from YUSHElectronic Technology Co., Ltd. in China-YS-SL6060

1680*1500*1630mm300mm/S 1200KG 10w laser cutter Sheet metal stencil laser depaneling machine smt cutting equipment
1.Unique waste collection structure
Based on the new structure design, YS-SL6060 uses innovative waste and smoke collection system, which completely frees customers from "equipment stabilization killers" such as chips, slag, iron dust and so on. It greatly improves the service life and stability of the equipment.
2.High Power Fiber Laser
YS-SL6060 is a semiconductor-pumped solid-state high-power fiber laser with advanced technology. Increasing the cutting efficiency also greatly increases the types of Machinable products. It is easy to deal with both ordinary metal sheets and precise parts with a certain thickness.
3.Provide users with specialized process solutions
Professional fixture design, can adapt to a variety of sizes, shapes of materials, so that every minute of production belongs to laser cutting. This is not only a device, but also a set of equipment process system that can optimize the user's process and give full play to the maximum value of the equipment.

Equipment description.
1. Machine Name :High-speed laser sheet metal cutting machines .
2. Model: YS-SL6060 .
3. Applications : SMT templates, precision metal parts.
4. Equipment Properties :
| | |
| --- | --- |
| Machine color | creamy-white |
| Total Weight | About 1500KG . |
| physical dimension | L1680*W1500*H1630mm |
| Platform | Granite base, with high stability and reliability. |
| Total power | Rated :2KW. Peak 6KW. |
| Power system requirements | Provide the regulator (AC 220V and single-phase 10KVA), in order to ensure to the power supply voltage fluctuations device does not exceed ± 5%. |
| Grounding Requirements | Provide independent and stable ground without loopholes interference. Ground line is: 6MM² |
| Environmental requirements | Offer supply of pure oxygen, the non-oil and gas and water vapor mixed, to avoid damaging optics. Ensure that equipment using ambient room temperature 24-26 ℃, and relative humidity below 60 ° indoor use. Clean environment. |
5. Technical specifications.
| | |
| --- | --- |
| Platform positioning accuracy | ±3μm |
| Platform Repeatability | ±1.5μm |
| Platform velocity | ≤300mm/S |
| Location detection sub variability | 0.1μm |
| Cutting range | X 600mm * Y 600MM |
| Table size | X 620mm * Y 620MM |
| Cutting thickness | ≤0.5mm (reference value) |
| Focus diameter | 25-30μm |
| Best Cutting Effectiveness | Up to 9400 Synthetic Aperture / hr, 13000-14000 standard aperture / hour (with a diameter of 0.3mm standard round date). Scope is 0.15mm less steel). |
6. Configuration Specification.
Laser light source Specifications
Laser Power
50W
Wavelength
1070 mm
Laser Weight
About 20KG
Beam delivery system
Dust-proof
Dust Cover
Control and drive systems
Control
PC-BASE CNC AC Servo Control
Drive
Linear motor drive
Guide
Precision linear guide rails
Others
CCD module
CCD fill holes focus, coaxial CCD light function.
Dust
Collect waste and zero-emission.
Blowing
Coaxial blow assist gas.
Fixture
Pneumatic clamping
Software system .
Software system
YUSH Mark
Language
Chinese/ English

Application

Environment

Windows XP
File format
DXF ,CNC

Implementation

monitoring

Cutting time, cutting the number of holes, the auxiliary gas, cutting

state.

Software Features

1. CNC support directly open documents, DXF file, Gerber file and drawing were selected, rotate, mirror and other operations.

2. Support the establishment of different cutting parameters for different databases steel thickness stee

3. Support for documents path optimization.

4. supports automatic cutting member cutting case records to the

query.