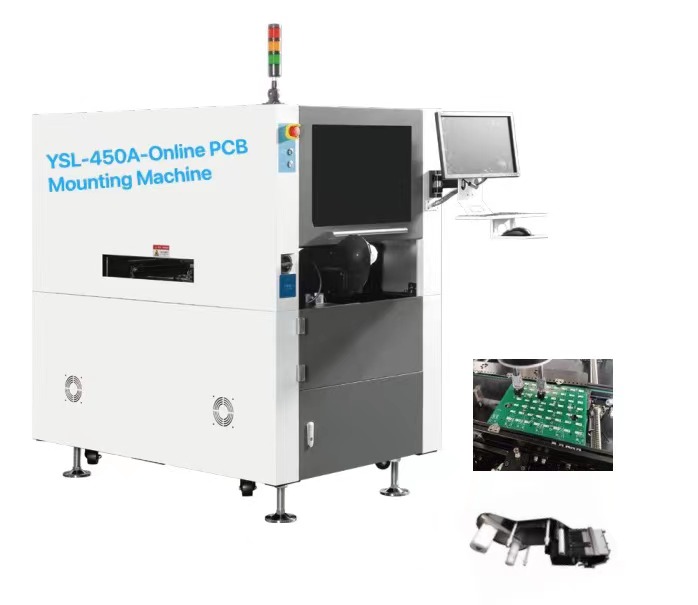 AUTOMATICON LINE MOUNTING MACHINE
YSL-T series online mounting machine is to automatically absorb the material outputby vacuum suction nozzle installed on the manipulator, Through the up and downvisual alignment system. the material are attached to the product at high speedand precision.It can be used to label PET film, wheat pull tape, foam, shieldcover and other materials that can be absorbed
SMT canbe produced online to reduce human input, and can also be equipped with up anddown board machines to realize offline production.
productfeatures
Strongversatility,one machine for multiple purposes
It canattach label pet shield cover and other materials at the same time,one machineis multi-purpose and universal.
It canbe attached with PCB.FPC, product label and many other application scenarios
Industry4.0, MES system interaction
Printinformation and download from MES system in real time.
Afterspraying, the information will be read automatically and uploaded to MESsystem, and the information can be traced back to prevent stupidity. Real timeupload device operation data, remote management.
No needto modify the process, fast import
For theapplication of labeling, there is no need to modify the current productprocess, rapid equipment import
Sayingmanpower.
Thesuction nozzle can be removed quickly.
Easy touse control system of mounting machine
Simpleteaching visual programming system,simple and easy to use, fast line change.
Labelinformation is automatically inspected to ensure that no defective products areoutflow.
Avariety of feeders are available
Theintelligent feeder can automatically peel off roll label, pet, foam,blue filmand other materials supporting single row and multi column typesetting
Plug gablefeeder, can be prepared outside the line, fast line.
Supportdisc, ribbon and sheet feeder
Highreliability and stability
Theequipment frame is welded as a whole and the gantry is processed to ensure highrigidity and stability
Qualitative,long life.
Thecomponents are of first-line brands
Applicationcases:
Productselection
Equipment model

YSL-45OA

YSL-750A

Equipment size ( W*H)

950*1400*1450mm

1200*1450*1450mm

Jet printing area (L*W)

450*450mm

700*500mm

CB size( L*W)

50*50mm-60o*500mm

50*50mm-900*500mm

Dimension of mounable material

Min:3*2mm Max:100*60mm

Mounting efficiency

1.1-2S/PCS

Number or mounting heads

2-6 options

Number of feeders

1-4 options

MES Online

Bar code reading and uploading to MES

Attachable materials

Label, pet, blue film, steel sheet, Mylar, shielding cover, film button, foam and other absorbable materials

Direction of plate entry

L→R、R→L、L→L、R>R 可选L→ R,R→L,I→L,R→R are optional

定位精度positioning accuracy

0.02mm

Mounting accuracy

± 0.1 mm (upper and lower double vision position deviation correction)

Mounting angle

360° arbitrary setting.

Mounting pressure

0.2-2kg adjustable

PCB weight

≤3kg

Double side jet printing

Equipped with built-in flap function to realize double-sided spray printing

Product thickness

0.4-20mm

Streamline track

The two-stage belt track can automatically adjust the width to prevent the side clamp lifting mechanism from positioning the product

Visual teaching programming

Through visual guidance, the placement position is set.

Bar code checking function

The position of bar code is checked by CCD and the bar code is read.

Mark visual correction function

The product mark is identified by CCD, and the mounting position is compensated to ensure the mounting accuracy.

Special mark point vision function

Support abnormal mark recognition ,white background recognition,automatic compensation function

Log query function

The system has it own database and supports log query.

Label information generation function

The system has its own label information generation function ,which supports non-standard date,stream code and shift format.

SMEMA online function

It supports SMEMA communication interface, realizes online application, and can work offline with upper and lower board computers.

Equipment weight

800KG

Power supply specification

220V 50/60HZ 2KVA

Pressure source demand

0.6MPa