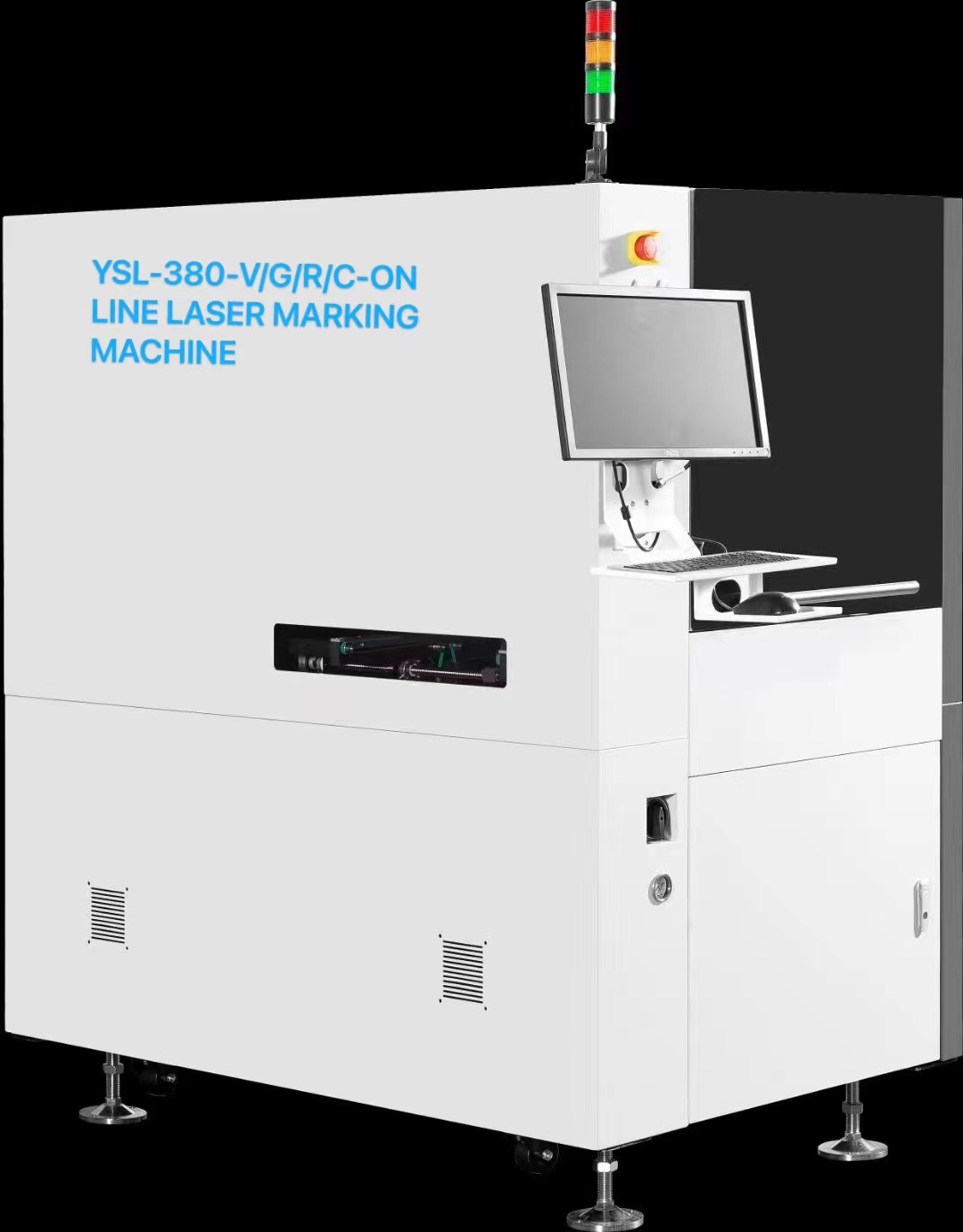 ON LINELASER MARKING MACHINE
YSL-LDseries on-line laser marking machine can be equipped with purple light greenlight CO2, optical fiber and other lasers, Through the multi-functional modulessuch as visual system, motion control system, information management system, itcan realize the current PCB,FPC, metal,ceramics, plastics, rubber and otherproduct surfaces, and print the required identification information to realizethe purpose of industrial traceability identification
SMT canbe produced online to reduce human input and can also be equipped with up anddown board machines to realize offline production
Productfeatures
It canbe re printed after wiping
Withspray printing information, solvent erasure and re spray printing.
Afterbaking at high temperature, the spray printing information is solidified andcannot be erased.
Industry4.0, MES system interaction
Pintinformation and download from MES system in real time.
Afterspraying, the information will be read automatically and uploaded to MESsystem, and the information can be traced back to prevent stupidity. Real timeupload device operation data, remote management.
Highprecision and high efficiency
It canrealize the marking of 0.04mm line width.
Ultrasmall two-dimensional code identification processing High speed, it takes only0.3 seconds to print a code.
Easy touse ink jet control system
A simpleand easy to use information generation system for jet printing
Teachingvisual programming, easy to use
Sprayprinting information detection, to ensure no outflow of defective products
Thejetting dock can be cleaned automatically without clogging the nozzle, and canoperate continuously and stably
Ultralow cost
Themarking efficiency is fast and can be completed at one time with low energyconsumption,It can be finished immediately without additional process andmanpower saving.Wide applicability, can print a variety of metal and nonmetalmaterials,reduce the investment of repeated equipment.
Highreliability and stability
Theequipment frame is welded as a whole and the gantry is processed to ensure highrigidity and stability Qualitative, long life.
Thecomponents are of first-line brands.
Applicationcases
Product selection:
Equipment model

YSL-380-380-V/G/R/C

YSL-380-450-V/G/R/C

Laser type

-v:Purple light(355nm)

-v:Purple light(355nm)

-R:Infrared(1064nm)

-C:C02(10600nm)

Laser power

3w/5w/10w

3W/5W/10W

10W/20W/30W

5W/10W

Scanning mode

Galvanometer scanning

Laser spot diameter

0.01mm

0.015mm

0.02mm

0.1mm

Equipment size (L*w*H)

850*1500*1600mm

950*1500*1600mm

printing area(L*W)

380*250mm

450*400mm

PCB size(L*W)

500*250mm

600*400mm

Direction of plate entry

L→R,R-L, L-L,R→R are optional

Duplex function

Optional

Repeat positioning accuracy

0.025mm

MES Online

Select MES online function(download the printing information MES,read and upload it to MES after printing)

Types of printable characters

English uppercase,English lowercase,numbers,Chinese characters,symbols, user-defined text and pictures

One dimensional ink jet code

Code128、Code128A、Code128B、Code2/5、Code39

Jet printing two dimensional code

Data Matrix、OR、PDF417,mini QR,IQR

Ink jet minimum two dimensional code

1*1mm

Compatible products

Thickness:0.2-8mm; tolerance of war page: ± 1mm;edge:≥4mm;Weight:≤3Kg

Super upper and lower space

≤30mm

Width adjustment of track slab

Automatic adjustment

Anti duplication function

365 day automatic repeat code detection

Visual teaching programming

Through the visual guidance,teaching set the location of printing information

Bar code checking function

After printing, the position of bar code is checked by CCD and the bar code is read

Mark visual correction function

The mark of product is identified by CCD ,and the printing position is compensated to ensure the accuracy of the printing position

Special mark point vision function

Support abnormal mark recognition,white background recognition, automatic compensation function.

Log query function

The system has its own database and supports printing log query.

Printing information generation function

The system has the function of printing information generation ,and supports non- standard

format of date,stream code and shit.

SMEMA online function

It Support SMEMA communication interface, realize online application,and can work offline with upper and lower board computers.

Equipment weight

800KG

Power supply specification

220V 50/60HZ 2KVA

Pressure source demand

≥0.4MPa