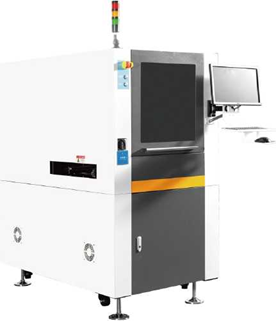 ONLINE MULTICOLOR INK JET PRINTER
YSL-PU series high-definition multi-color automatic ink jet printer adopts the nozzlewith resolution up to 600dpi, which is suitable for high-temperatureenvironment-friendly ink. It has the characteristics of high adhesion and multicolor simultaneous ink jet printing on a single device.It is widely used on thesurface of PCB, FPC, metal, ceramic,plastic, rubber and other products to printthe required identification information and realize the purpose of industrialtraceability.
Inkjet printing system can interact with IMS, MES,ERP and other productionmanagement system data to realize variable information ink jet printing, whichcan be read and sent back to the management system
Product features:
It can be re printed after wiping
With spray printing information, solvent erasureand re spray printing
After baking at high temperature, the sprayprinting information is solidified and cannot be erased.
Adhere to the surface,no damage to the product
Ink jet printing ink spots attached to the surfaceof the product,no damage to the product.
It can be spray printed on PCB/FPC network linewithout quality risk.
Quick drying of ink,environmental protection
The ink can be sprayed and dried withoutbaking.High temperature resistance,anti friction,anti alcohol,environmentalprotection
.In theproduction process,there is no smoke residue on the product.Ultra low cost ofconsumables,only 1/12 of the label.
Industry4.0 EMS system interaction
Printinformation and download from MES system in real time
Afterspraying,the information will be read automatically and uploaded to MES system,andthe information can be traced back to prevent
Stupidity.Realtime upload device operation data,remote management.
Adhereto the surface,no damage to the product
Ink jetprinting ink spots attached to the surface of the product, no damage to theproduct,
It canbe spray printed on PCB/FPC network line without quality risk.
Easy touse ink jet control system
A simpleand easy to use information generation system for jet printing.
Teachingvisual programming,easy to use
Sprayprinting information detection,to ensure no outflow of defective products.
Thejetting dock can be cleaned automatically without clogging the nozzle,and canoperate continuously and stably,
Quickdrying of ink,environmental protection
The inkcan be sprayed and dried without baking. High temperature resistance,antifriction, ant alcohol, environmental protection. In the production processthere is no smoke residue on the product.
Ultralow cost of consumables,only1/12 of the label.
Highreliability and stability
Theequipment frame is welded as a whole and the gantry is processed to ensure highrigidity and stability
Qualitative,longlife.
Thecomponents are of first-line brands.
Applicationcases:
Product selection:
Equipment model

YSL-450A

YSL-750

Equipment size(L*W*H)

950*1350*1400mm

1250*1400*1400mm

Jet printing area (L*W)

450*450mm

700*500mm

PCB size(i*w)

50*50mm-600*460mm

50*50mm-900*500mm

Direction of plate entry

L→R, R→L, L→L, R→R Optional

Duplex function

Optional

Printing accuracy

±0.1mm

MES Online

Select MES online function (the spray printing information is downloaded from MES,read after spray and uploaded to MES)

Types of printable characters

English uppercase, English lowercase, numbers, Chinese characters, symbols, user-defined text and pictures

One dimensional ink jet code

Code128、Code128A、Code128B、Code2/5、Code39

Jet printing two dimensional code

Data Matrix、OR、PDF417、Miniature OR、IOR

Ink jet minimum two dimensional code

2*2mm

Printing color can be selected

Black, white, red, green, blue,yellow, can support four color jet printing at the same time

Jet printing resolution

100-600dpi continuously adjustable

production efficiency

1s/pen +6S in and out time

Print height adjustment

1.5-5mm adjustable

Double side jet printing

Equipped with built-in flap function to realize double-sided spray printing.

Applicable products

Thickness:0.2-8mm; tolerance of war page :±1mm;upper spare :≤5mm;Weight:≤3KG

Printing angle

0-360°

Width adjustment of track slab

Automatic adjustment

Anti duplication function

365 day automatic repeat code detection

Visual teaching programming

Through the visual guidance, set the position of spray printing information.

Bar code checking function

After spray printing,the position of bar code is checked by CCD and the bar code is read.

Mark visual correction function

The mark of product is identified by CCD,and the position of spray printing is compensated to ensure the position accuracy.

Special mark point vision function

Support abnormal mark recognition,white background recognition,automatic compensation function.

Log query function

The system has its own database and supports printing log query.

Printing information generation function

The system has its own printing information generation function,which supports non-standard format of date ,stream code and shift.

SMEMA online function

Support SMEMA communication interface, realize online application

Equipment weight

800KG

Power supply specification

220V 50/60HzZ 2KVA

Pressure source demand

≥0.4MPa